hints, tips, tricks and news about the Google products at the University of Bristol
Posted by Mally Mclane | Filed under interesting feature
Gmail's best features are tucked away in its nooks and crannies. There are endless tricks for Google's email platform, so we'll be sharing our favorites every week! Scroll down for our first five pointers, then add your own in the comments. You're just a few hacks away from becoming an email ninja.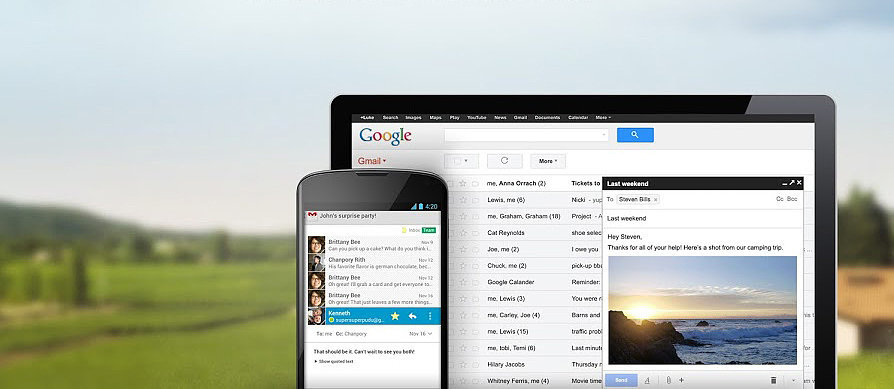 Source: Google Plus user Gmail
Send and Archive
If inbox zero is what you're trying to achieve, this magic button will help you do it. Once you've responded to an email, that conversation will be moved away from the inbox into a digital filing cabinet. Archiving doesn't mean deleting mail. You can find archived messages in the All Mail tab on the left or with the search bar on top.
To enable Send and Archive, go the the gear icon (top right) > Settings. Under the General tab, find the Send and Archive and select Show Send & Archive in reply.
Read Gmail Offline
The most underrated feature in all of Gmail? Gmail Offline. It's a Chrome extension that allows you to read, respond to, search, and archive emails without an Internet connection.
Click on the gear icon (top right) > Settings, then click the Gmail Offline tab. You'll need to let the extension sync and download emails for a little while, before you get offline. And don't worry — this extension doesn't take up any space on your hard drive.
Add Emails to Tasks
Responding to email takes a lot of time and energy. If it's not done immediately, it might never get done. Make sure important emails get attended to by adding them to Tasks. In the upper left, click the Gmail dropdown menu to open your Tasks window. To add an email to Tasks, select it from the inbox or open it, then click the More tab at the top. Select Add to Tasks.
In your Tasks window, you'll now see a list of emails that need responding to. Click on the task to go directly to the thread without having to search for it!
Mass Unsubscribe
Want to get rid of those newsletters for good? Type "unsubscribe" into the search box, and you'll probably find every deal, discount, and event email notification you've ever signed up for. You can also select all (but make sure to click "select all conversations that match this search" too) to banish historic newsletters from your inbox for good.
Drag Labels Onto Messages
This trick is an oldie but goodie. Drag and drop Gmail labels on top of threads in your inbox. It's so much easier than clicking on the Label tab and selecting the right category.
(originally posted by our friends at GeekSugar: http://www.geeksugar.com/Tips-Gmail-34542860)